Welcome to the Iberville Chamber of Commerce
The Iberville Chamber of Commerce is a dynamic organization made up of business people from throughout Iberville Parish. The Chamber has been representing the interest of the local business community for over 60 years. The goals and objectives of the Chamber have been set to support our dedicated members, while insuring that we create a business climate that will ultimately enhance the growth opportunities of our businesses and the overall economy of Iberville Parish.

Use our Business Directory to locate or learn more about local businesses and members of our Community.

Chamber members & businesses can find, submit and promote events within their local community.

Login to update, track, and summarize all relevant data regarding the Chamber of Commerce.
About Us
---
The Iberville Chamber of Commerce is a diverse group of business and community leaders who work together to enhance the economic, social, political and educational opportunities in Iberville Parish. Membership is comprised of representatives from industry, small businesses, educators, local government, area non-profit and community organizations, as well as individual members of the local community. Pictured above 2015 Chairman of the Board Steve Smith of The AME Group passes the gavel to incoming 2016 Chairman of the Board Jolain Landry of the Iberville Parish School Board.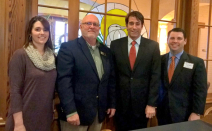 Meeting Spotlight
---
Thank you to Congressman Garret Graves who spoke to the Chamber membership at The Island Country Club in Plaquemine on February 16. Pictured from left are Jolain Landry, Chamber Chairman of the Board with the Iberville Parish School Board; Hank Grace, Chamber Executive Director; Congressman Graves and Tommy Faucheaux of The Dow Chemical Company. Thank you to The Dow Chemical Company for your sponsorship!
For a complete listing of all events, check out our Events List
RIBBON CUTTING
Moreau Physical Therapy held their Grand Opening and Ribbon Cutting on Friday, April 29 at their location in Plaquemine at 59295 River West Drive.
NEED A SMALL BUSINESS LOAN? CALL THE CHAMBER!
The Iberville Chamber of Commerce has low interest loan money available for businesses to expand operations, make capital improvements or purchase needed equipment!
Up to $50,000 can be loaned to businesses through the Iberville Chamber Revolving Loan Program. Businesses must be located in Iberville Parish and meet the guidelines for the program. Primary considerations for awarding loans include a credit check, a net worth determination, cash flow projections, other outstanding obligations and the overall ability to repay the loan. Interest rate charged is 4 percent.
For more information contact Jennifer Landry at the Chamber office: 225-687-3560 or
jslandry@ibervillechamber.com
The Iberville Chamber of Commerce is an equal opportunity lender and provider.